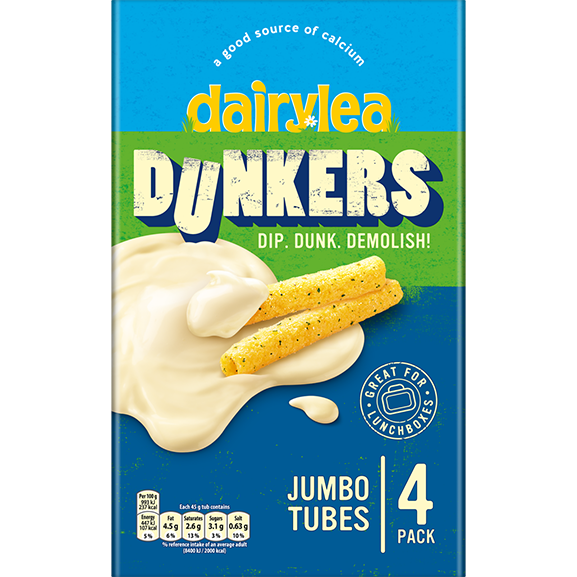 Dunkers with Jumbo Tubes
Available in Multipacks of 4 and 6 x 41g and 41g single packs
Get ready to dip, dunk, demolish, with our crispylicious tasty jumbo tubes and delicious Dairylea cheese dip!
Have you heard?
Good source of calcium
No artificial colours, flavours or preservatives added
Suitable for vegetarians
Great for lunchboxes
Our yummy recipe
Ingredients:
Dairylea CHEESE dip:

skimmed MILK (water, skimmed MILK powder), CHEESE, concentrated whey (from MILK), inulin, MILK protein, MILK fat, emulsifying salt (polyphosphates), modified starch, calcium phosphate, acidity regulator (lactic acid).

Corn and potato snack:

corn flour, potato granules, palm oil, flavourings, sugar, salt, onion powder, emulsifier (mono- and diglycerides of fatty acids), yeast extract, garlic powder, parsley, MILK (citric acid), rosemary, horseradish.