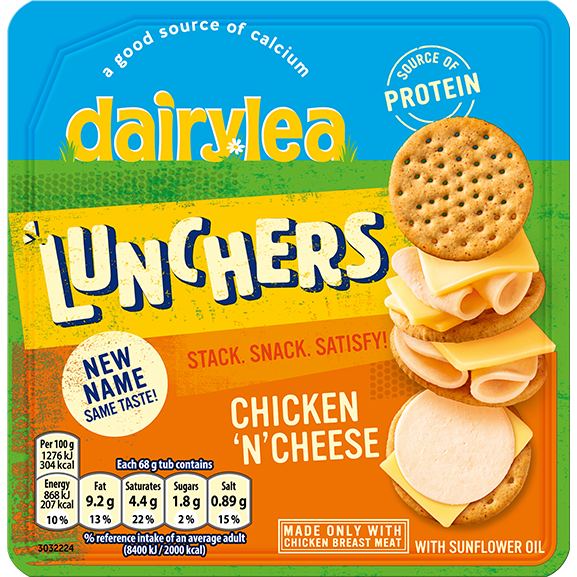 Lunchers Chicken 'n' Cheese
It's like making your own super fun mini-munchable sandwich… snack, stack, satisfy!
Have you heard?
Good source of calcium
Good source of protein
No artificial colours, or flavours
Source of Vitamin D
Our yummy recipe
Ingredients:
CHEESE food:

CHEESE (75 %), skimmed MILK (water, skimmed MILK powder), emulsifying salts (sodium citrates, potassium citrates), MILK proteins, BUTTER, skimmed MILK powder, whey powder (from MILK), vitamin D, preservative (sorbic acid), acidity regulator (citric acid), anti-caking agent (sunflower lecithins).

WHEAT crackers:

WHEAT flour (71 %), sunflower oil (8 %), WHEAT bran, sugar, BUTTER, glucose-fructose syrup, raising agents (ammonium carbonates, sodium carbonates), whey powder (from MILK), WHEAT germ, potassium chloride, flavourings (contains MILK), flour treatment agent (sodium METABISULPHITE).

Cooked formed chicken:

chicken breast (88 %), starch, acidity regulators (potassium lactate, sodium acetates), salt, flavour enhancer (potassium chloride), stabiliser (polyphosphates), antioxidant (sodium ascorbate), preservative (sodium nitrite). Packaged in a protective atmosphere.